You'll love all the flexible forwarding features.
Never miss a call with the customisable options.
Every Cheap Tollfree account comes with over 80 high value features, for free. You only pay for your calls.
With our Cloud PBX features you'll never miss a call.
Self-managed, simple to use, with access from any browser.
Manage your inbound calls.
Each inbound call can be treated differently and it's simple for you to set up in the Cloud PBX. Send calls to voicemail after hours or when you're busy, set up a simultaneous ring to always call your mobile as well, or route your calls through an IVR to a queue.
Your own Virtual Receptionist.
Direct your calls to different areas of your business with the Cloud PBX Auto Attendant. This is your virtual receptionist. Simply create your recording and then setup the call flow, like "press 1 for sales, 2 for accounts or 0 to speak with someone in our team". It's so easy to do.
Setup a call queue.
If you have higher volumes of inbound calls you can have these queued until your agents are available. You can let callers know where they are in the queue and anticipated wait times. You have full control of how you set this up in the Cloud PBX.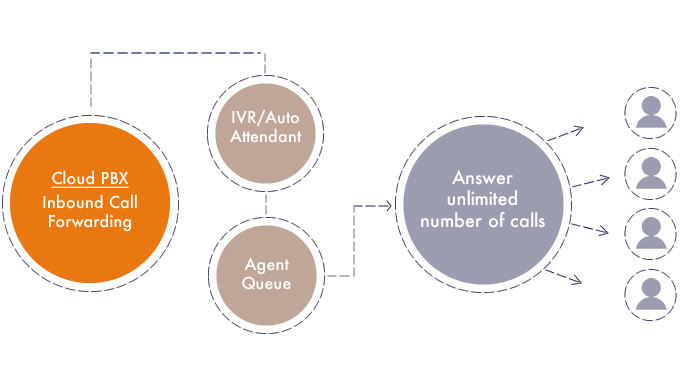 Setup your outbound call fowarding.
Now you can manage your outbound call flow settings from anywhere. Cheap Tollfree's Cloud PBX is quick to set up Caller ID and Privacy as well as setting PIN codes for restricting calls.
Edit your outbound call settings easily.
The features available in a fixed wire PBX are now available online so you can make the changes yourself without the need to call in an expensive engineer or consultant.
Using simple and easy to use web based tools you can configure your outbound call settings yourself.
See what's happening, from anywhere.
Check your Cheap Tollfree Cloud PBX account any time, from anywhere, to see how your business is communicating. You can quickly check your balance, add credit to your account, configure auto top-ups, view your bills and change your plan.
View your call records.
Every call that is made, whether it's inbound or outbound is logged in the Call Data Records (CDR). You can view this information online or you can export this as a *.csv file to create your own reports.
Easily get access to call recordings.
You can enable call records for both inbound and outbound legs of your call. You can easily download call recordings from your account or have these sent directly to one of your email accounts.
GET STARTED TODAY
Instant Activation, No Setup Fees
The easiest way to get a toll free number for your business is with cheaptollfree.com.
When you're looking to present a professional image to your customers, start by offering them a toll free number to call you on.
Simply forward that customer's call to any answer point that you've set up in the Inbound Call settings in the Cloud PBX.
There has never been a more simple or elegant solution. Start today.
GET STARTED TODAY